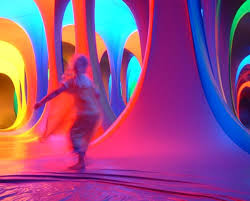 I heard about a "giant inflatable" taking off but was shocked to read in the paper that it was
Maurice Agis' Dreamspace
. For me, Dreamspace is the most important and universally accesible pieces of public art I have ever seen.
I first came across Dreamspace in mile End park maybe 10 years ago when I was doing a lot of acid. The whole experiece of taking yourself out of the chaos of natural and man-made forms into this repeating illusion spoke to me on levels I can't remember. I ended up flyering Dreamspace for nothing I was so excited by it and wanted people to see it. I think Maurice and his girlfriend thought I was a bit wierd in the end. I probably was.
When I was handing out flyers I remember I asked "Do you dream?" and if they took one I'd say "I thought so."
That was my first experiece of "trawling" a passing civilisation. People who recoiled or were negative I'd let pass without a second thought. The more adventureous I'd end up having beautiful conversations with and I met lots of nice girls that way.
I really feel for Maurice but have no idea how to contact him. I hope Dreamspace comes back. I really can't speak highly enough about it as an artistic experiece.
Maurice Agis' CV with pictures
BBC article